Welcome
Welcome to the DogeCraft Webstore!
Here you can buy in-game resources such as items and ranks.
Click on one of the buttons above to see what we offer!
All payments are handled and secured by:
Card Payment:
Please note that we are not affiliated with Mojang AB in any way. Minecraft is a copyright of Mojang AB. Any contribution or purchase goes directly to our Paypal Account.
For more information, support or a purchase history email us at mc.dogecraft@gmail.com
Featured Package
[NEW] Global Sub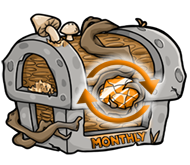 Community Goal
When hit everyone gets fly at /Goal

Monthly Top Donator [30USD coupon]
ThiWolf
Donated the most this month.
Recent Payments
Lunar_Glare

Sky StrongBox 5x

EpicMinerBackup

Doge Pickaxe

ThiWolf

Sunlight StrongBox 1

Supersteven65

Sunlight StrongBox 1